Selling digital products on your WordPress website can be a great way to generate revenue and offer value to your audience. With the help of e-commerce plugins like WooCommerce or Easy Digital Downloads, it has become easier than ever to set up a digital store. However, not everyone wants to use an e-commerce plugin for various reasons such as cost, complexity, or feature overload. Fortunately, it is still possible to sell digital products on WordPress without using an e-commerce plugin.
In this article, we'll discuss the process of selling digital products on WordPress using a form plugin and the steps that need to be taken when a sale is made.
What are digital products?
Before we dive into the specifics of selling digital products on WordPress, let's define what a digital product is. Digital products are electronic files that can be downloaded and used by the purchaser. Common digital products include eBooks, music, videos, software, and graphics. The great thing about digital products is that they are easy to distribute, have low overhead costs, and can be sold repeatedly without the need for physical inventory.
Why sell digital products on WordPress?
There are a number of reasons why you might choose to sell digital products on WordPress. Here are just a few:
Low overhead costs: Selling digital products eliminates the need for physical inventory or shipping costs, making it an affordable option for businesses of all sizes.
Easy to manage: With digital products, you don't have to worry about inventory management or shipping. Once the product is created, it can be sold an unlimited number of times.
Wide audience: WordPress is one of the most popular content management systems in the world, making it a great platform for reaching a wide audience.
Now that we've established why selling digital downloads on WordPress is a great option, let's take a look at some of the best ways to do it without using a forms plugin like Happyforms.
Selling digital products on WordPress
There are several ways to sell digital products on WordPress, but one of the easiest and most effective ways is to use a form plugin like HappyForms. HappyForms is a free, user-friendly form plugin that allows you to create custom forms for your WordPress website. These forms can be used for a variety of purposes, including selling digital products.
Step 1: Create your digital products
The first step is to create your digital product. This can be an eBook, a music track, a software application, or any other type of digital content. You can create your product using various tools, such as Adobe Creative Suite, Canva, or even Microsoft Word. Once your product is ready, save it as a downloadable file, such as a PDF, MP3, or ZIP file.
Step 2: Install the Happyforms plugin
The next step is to install the Happyforms plugin on your WordPress site. To sell digital products using Happyforms, you need to purchase the premium version of the plugin. After purchasing, follow this guide to install Happyforms.
Step 3: Create a form with a payment field
Once Happyforms is installed and activated, you can create a form to sell your digital product. This form should include fields for the buyer's name, email address, and a payment field that captures the payment information. Follow this article to learn how to create a form with a Payment field. And you may also want to include fields for the product name, description, and other details.
Step 4: Set up download delivery
Once payment is complete, you have different options for delivering the digital product:
You can redirect the buyer to a download page where they can get the product.
You can add a customized confirmation message containing instructions on downloading their digital product, which will be automatically sent to them after every successful purchase. You can configure this in the Emails tab of the form builder.
Alternatively, you can deliver the digital product through a personalized email, which requires manually writing a new email for each purchase.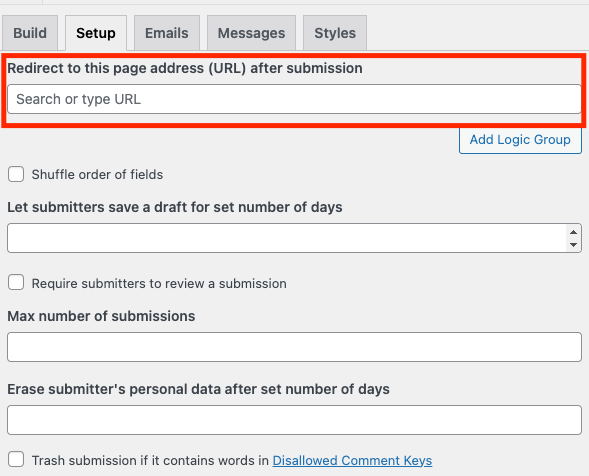 Step 5: Test the System
Before you start selling digital products, it's essential to test the system to ensure that everything works correctly. Purchase a digital product from your website and make sure that you can download it successfully. When doing a test purchase, be sure to switch the payment integrations to testing mode.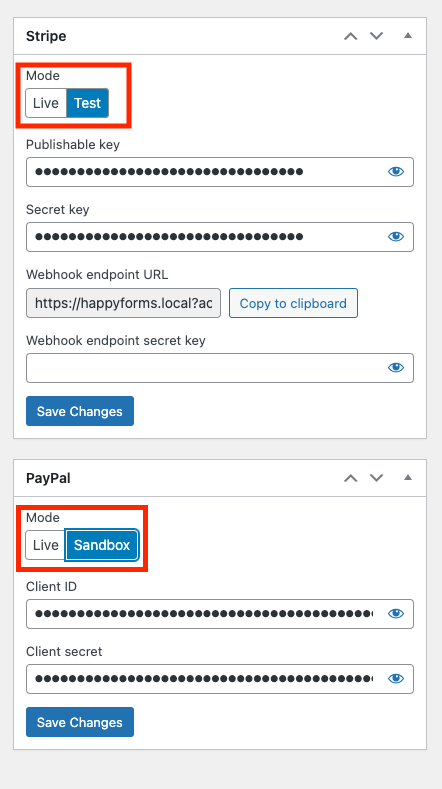 Step 6: Market your digital product
Once your system is up and running, it's time to market your digital product. You can use various marketing strategies, such as email marketing, social media, or paid advertising, to drive traffic to your website and increase sales.
Step 7: Manage orders and sales
Managing the order and sales process is essential after making a sale. This involves tracking orders, updating inventory, and sending confirmation emails to buyers.
E-commerce plugins can handle all of this for you. However, when selling digital products using forms, you'll need to manage everything manually.
Step 8: Deliver the product
After a sale is made, you'll need to deliver the digital product to the customer. The easiest way to do this is by sending the customer an email containing a download link to the product.
Once the customer receives the email with the download link, they can simply click on it to start the download process. It's crucial to ensure that the download link is valid and functional so that the customer can download the product without any issues.
Step 9: Follow up with the customer
Finally, it's a good idea to follow up with the customer after they have received their digital product. This can help to build a relationship with the customer and encourage them to purchase from you again in the future.
Conclusion
Selling digital products on WordPress without using an e-commerce plugin is possible. By using a form plugin like HappyForms, you can easily create a form that collects customer information, accepts payments, and provides access to digital products. The process is easy to set up and customize, making it an ideal solution for small businesses and individuals who want to sell digital products online.