Are you looking for the best WordPress form plugin? With so many options available, it's easy to feel uncertain about which one to choose for your website. The good news is that you're not alone – many people are facing the same dilemma.
You may have already searched for the "Best WordPress form plugin" or read a blog post about the "Top 10 WordPress form plugins." While these results can help you make a quick decision, it's important to consider whether the top-ranked plugin is really the best fit for your needs and long-term goals.
In this blog post, we'll provide you with a basic idea of how to choose the perfect form plugin that can deliver the results you want. We'll discuss how to match features to your expectations, so you can make an informed decision that will serve you well in the long run.
First steps in finding the best WordPress form plugin
Define your goals. This is a crucial step in selecting the best WordPress form plugin for your website. This ensures that you choose a form plugin that will satisfy your needs, rather than discovering any limitations or missing features after you've already made a decision. Start by asking yourself: What is the purpose of the form plugin on your website? Are you looking to create a simple contact form, a newsletter sign-up form, or a payment form? What fields are necessary for your form? Do you need any integrations with third-party apps? Answering these questions will help guide you through the selection process.
Check for update frequencies. Ideally, a good plugin is regularly updated about every 2 – 4 weeks. If a plugin is updated frequently, it's more likely to be compatible with WordPress, themes, and other plugins. This can help minimize code conflict errors on your website. To check the update frequency of a plugin, simply look for the "Last Updated" section on the plugin's WordPress repository page.
Look at what customers are saying about the plugin. This is all about customer reviews. When checking reviews, it's not enough to simply look at the average star score of a plugin. Instead, it's important to look for genuine reviews from verified reviewers. Customer reviews can provide valuable insights into how satisfied users are with a particular plugin. Be sure to read through several reviews to get a sense of what customers are saying about their experience with the plugin.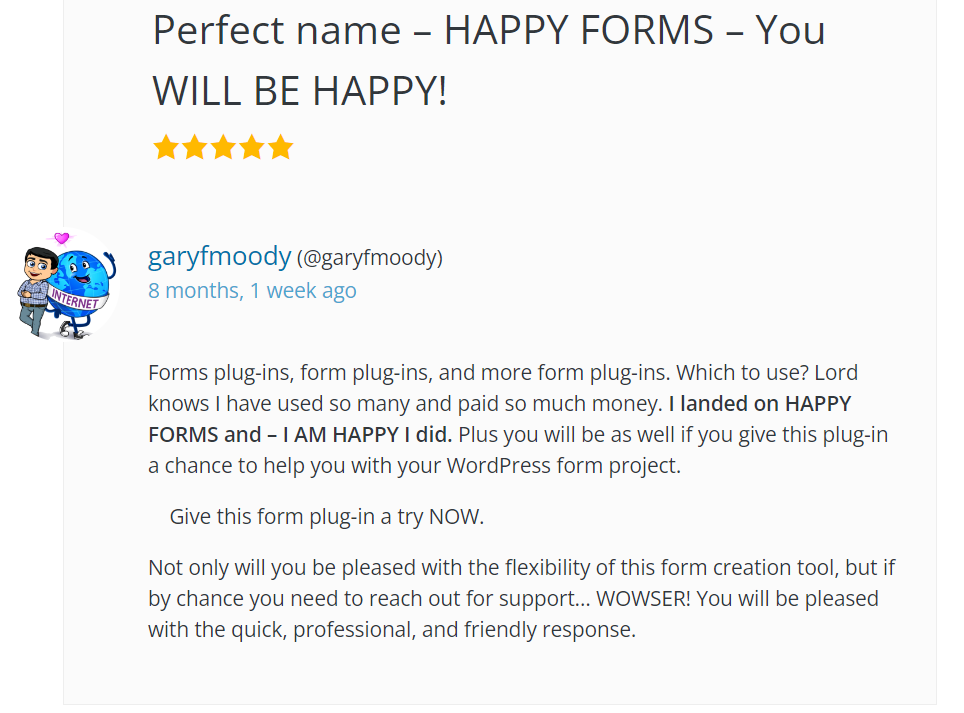 The best WordPress form plugins have these 5 key features
User-friendly interface
Creating a simple form using your WordPress form plugin shouldn't be a stressful experience. A user-friendly interface is essential to allow users to efficiently complete tasks without needing support. A good interface indicates that the developer prioritizes user experience, which can increase trust and loyalty. By providing a user-friendly interface, you can save time and make it easy for your users to interact with your website.
Wide variety of field options
When choosing a form plugin based on available fields, it's important to consider your specific goals for creating a form on WordPress. However, in general, it's preferable for a form plugin to offer a range of field options to allow you to create a versatile form that meets your exact needs, especially if you plan to use the plugin over an extended period of time. By having a variety of field options, you can customize your forms to match your unique requirements and enhance the user experience on your website.
Mobile responsiveness
As more people use mobile devices to browse the web, it's essential to have mobile-responsive forms that can be easily submitted from any device. A good form plugin should provide mobile responsiveness without requiring additional customizations. Users shouldn't have to worry about whether their form will display correctly on different types of mobile devices. By selecting a form plugin that offers mobile responsiveness, you can ensure that your forms are accessible to all users, regardless of the device they are using.
Integrations
Integrating with other third-party apps can expand the uses and capabilities of a form, providing more solutions to problems. A form plugin that offers a wide range of integrations adds value, as it can offer more solutions to users. However, it's important to focus on the integrations you actually need, as unnecessary integrations may not add any value.
Spam protection
It's crucial for a form plugin to clearly showcase its spam protection solution. Spam can waste your time and potentially harm your website, so having an effective spam protection feature is vital. By selecting a form plugin with robust spam protection, you can minimize the risk of receiving spam submissions and ensure that your forms are secure and reliable.
Create the best forms in a few minutes using Happyforms
Now that we've covered finding the best form plugin for WordPress, we'd like to mention our product, Happyforms. Happyforms includes a free and upgraded version. It's developed with users in mind, has an easy to use interface, plenty of integrations, and fantastic support.
Conclusion
Every feature of a form plugin should exist for the benefit of the users. It's important to evaluate each feature and determine if it effectively meets user needs. Each form plugin has its own unique strengths and weaknesses, and with so many options to choose from, it can be difficult to determine which ones are the "best" until you've tried them. However, by carefully considering your goals, checking for regular updates, reading customer reviews, assessing the user interface, and evaluating available fields and integrations, you can select a form plugin that meets your specific needs and provides an optimal user experience for your website visitors.